,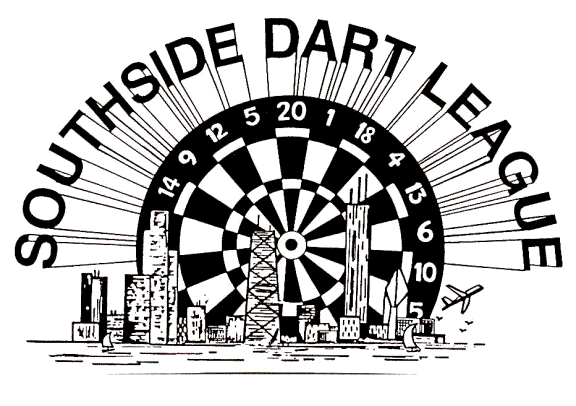 The Southside of Chicago's "Steel Tip" Dart League since 1981
Mailing Address: 10509 S. Whipple St. Chicago IL 60655
Phone: 773-445-7700
E-mail: office@southsidedartleague.org
Awards Banquet Monday December 18th 7:30 pm --Elks in Crestwood
Winter 2018 Registrtion Monday January 8th
7:30 to 10 pm -- Brewbakers 10350 S. Western Luck of the Draw starts at 8pm
January 22nd : Captains Meeting - 7:30 Captains Folder Pickup- Brewbakers 10350 S. Western - Luck of the Draw starts 8pm
January 29th : First night of Fall season; the Jan 31th for Wednesday Mixed League
An Seanachi's closed Oct 1st. The dart teams are relocating to the following bars:
Division 2 Scruffy Nerf Herders is moving to Slapshots Sports Bar 14608 S Cicero
Division 3 Ricks Short Bus of Wonders is moving to Southsides Bar 11860 S. Cicero
Division 4 Unstable is moving to Longfords 13815 S. Cicero
Division 5 The Real Housewives of Alsip is moving to Brewbakers 10350 S. Western
Division 6 Cal Park Sharks is moving to Racks Saloon 13395 Olde Western
Division 7 Last Chance Gang is moving to Chris' Northside Inn 12431 S Western
Both Wednesday An Seanchi teams are Moving to Blackthorn 3300 W. 111th
We want to welcome the new bars above to our steel-tip league league, and thank our existing bars for taking in the other An Seanchi teams.
And a special thank you to Julie and the staff at An Seanchi for hosting many dart teams since they opened.
Want to join a team or get more information about the Southside Dart Steel Tip Dart League
e-mail us at office@southsidedartleague.org or leave a message at 773-445-7700
Captains Information
Playoffs - To be playoff eligible a player must have
played a minimum of 5 games over 5 weeks. Any
questions should be directed to the board by phone
or e-mail at office@southsidedartleague.org

Play-off tie breakers: 1) Head to Head Record of Teams Involved. 2) Singles Record vs. Teams Involved. .
3)Away Record vs. Entire Division. 4) Coin-Toss

Scores must be called in to 773-445-7700 or emailed to office@southsidedartleague.org by
11:00am the day after darts. There will be a 1 point penalty per week until the score is called in.
When calling in high darters please spell there last name and let us know which team they play for.
Please confirm the spelling of
your team name on the standings - that is
how it will appear on any awards you may win.
Darts Eligible for Call in or High Scores:
A 140 or more in one turn in 301 or 501
Doubled in with a 101 or more in 301
Doubled out with a 101 or more in 301 or 501
4 or more bulls in Dirty Cricket
Trip Trips in Dirty Cricket
Please report what team they play for